Author
DR Rob Gandy  I  UK
My uncle recently died; I say "Uncle" although he wasn't a blood relative. All your parents' friends were "uncle this" and "auntie that" in the 1950s and 1960s. But he was definitely "Kith" even if he wasn't "Kin", and everybody loved him. It is always sad when someone you have known your whole life passes on, although at the age of 94 years we can all say the usual things like "He had a good innings".
He was one of the generation that fought in WWII, who are now getting fewer and fewer in number. One thing that he mentioned on occasion is how he and his fellow soldiers found themselves liberating a concentration camp in Germany during 1945. He said it was absolutely terrible; and there is little point in repeating what he said about it, when we all now know the awful details through books, films and television programmes.
Nevertheless, he had some photographs from when he was there – I am not sure whether he took them himself or received copies from one of his colleagues (probably the latter I would guess). There were only about 9 or 10; but it was not something that you ever said that you wanted to see, because you would feel that you were being ghoulish. However, with his passing there was the realisation that these photos might be quite rare, and there was a distinct possibility that they could end up indefinitely in a loft somewhere, or worse, in the dustbin. Therefore, his daughter agreed that it would be better if the photos were donated to a War Archive, so that researchers and historians can make proper use of them. As a result, they have been donated in his memory to the Liddell Hart Centre for Military Archives at King's College London1. Founded in 1964, the Centre is a leading repository for research into modern defence policy in Britain, from the Second Boer War onwards. Its holdings include the personal and semi-personal papers of nearly 800 senior British defence personnel, research papers for a number of television documentary collections, published microfilms and microfiche of USA official documents and the former private library of Captain Sir Basil Liddell Hart. The archivist that I spoke to about donating my uncle's photos was very enthusiastic about receiving them, when I told her what they covered.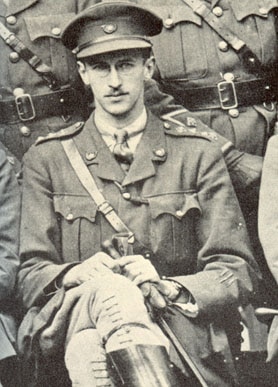 ….WWII Captain Basil Liddell Hart
I have no doubt that there will be many of us who have photos and keepsakes from WWII that belonged to our deceased parents; and there will be others who are lucky enough to still have their parents alive, who know of similar articles. It would be a tragedy if these were all chucked in the dustbin or permanently stored in the loft. And we can be pretty certain that our adult children and their children will have limited interest or appreciation of the value of such photos and keepsakes, or their context. After all, it is us GBoomers who will have heard most of the related stories, directly or indirectly, and know the background, because we were the ones who they would have talked to, or in front of. (Notwithstanding the known fact that so many of our parents who fought in WWII never talked about what they experienced; arguably because it was their way of dealing with what would today be diagnosed as post-traumatic stress disorder.) Therefore, have a think about what WWII photos and keepsakes that belong(ed) to your parent(s) might be of potential value to historians and researchers; and then think about whether they might be worth donating to an archive like the Liddell Hart Centre for Military Archives at King's College London1, or, for example, The Imperial War Museums2. I am certain that any such enquiries will be met with enthusiasm and interest.
Many of us GBoomers are always looking for "an interest" or "a hobby" to positively occupy our time. Might I suggest that those of you who read this article and realise that there are WWII photos and keepsakes somewhere around (and those from other conflicts), give consideration to sorting them out for potential archive donation. It would be a positive project, which could give testament to what your parent(s) did; and thereby answer the question that was commonly asked when we were young, i.e. "What did your Dad do in the War?"