Day 1 – Thursday 3rd December 1987
In my mind, I had actually joined the Army twice. The first time was the formal enlistment back in October 1984 where I swore my allegiances to "The Queen Her Successors …." etc, and signed on the dotted line. Next I was off to Catterick to begin basic training. The carnage of the next 3 years is for another day…….
Fast forward to Thursday 3rd December 1987 and this was when I really joined the Army: I flew from RAF Brize Norton to Hanover where I had been posted to a place called Verden. Verden was the home of 1st Armoured Division, one of the biggest units and bases the Army had in Germany. My instructions were pretty straight forward: buses would take us from Hanover Airport to Verden; once I got to Verden, I should go to the guardroom and tell them I'd arrived; and I would then be given a bed space for the night, with the admin sorted out in the morning. All pretty routine stuff and nothing I hadn't done before in my previous 3 years in the Army.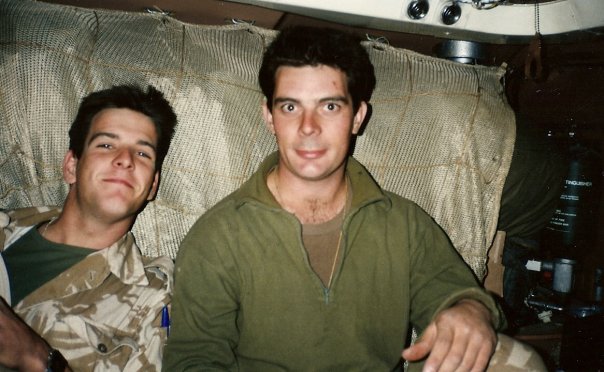 The Hanover flight landed at just gone 4:30 in the afternoon. It was a cold, wet and miserable afternoon in Northern Germany. I grabbed my bags and headed out to the meet the bus. There are dozens of buses! All of them looked identical other than the placard saying which military barracks in Germany they were headed for: Minden; Lemgo; Herford; Bielefeld; and eventually Verden. The bus looked cold, like it'd been waiting for hours. It was empty apart from the driver who only spoke one word – "Verden." I picked up my three bags and was about to board when I was stopped in my tracks by a man running towards me, shouting "Whoa! Whoa! Wait there!" with a very strong Scottish accent.
"Are you 24670365 Sig Hay?" is put to me by a voice standing behind an A4 sheet of paper. I confirm to my Scottish counterpart that I am, only to be told, that I must go with him. "Carlo," – said in a way that I should know who Carlo was – "is in the car just over there and we'll take you back to camp." A million questions follow: Who are you? Are you going to take me to Verden? etc. etc. But I'm happy because I've been cramped into the back of Al Kirsop's Ford Escort XR3i – the status symbol of the day! It's what 1987 is all about and in a contest between an XR3i and a cold, freezing bus there was only ever going to be one winner. Carlo tells me that instead of going to Verden, we are actually going to Soltau; but not to worry because Soltau and 207 Signal Squadron is part of 1 Armoured Division, and "Staff Lodge is expecting us." It sounds like a plan, and then Al pipes up to say we'd best get a move on as "tonight is the Squadron Christmas Party." It was getting better all the time!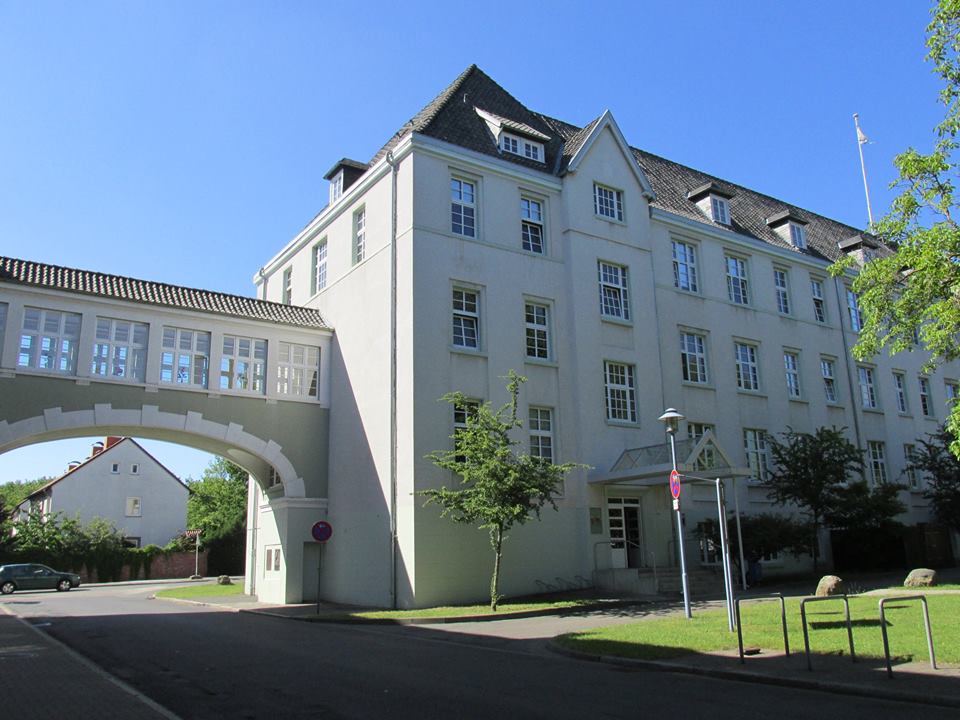 207 Signal Squadron Barracks, Soltau
The autobahns were mad and we hit 160kph in no time at all, leaving Hanover on Route 352 and then Route 7. Carlo asked me if I was into football, to which I replied that I was a fanatic, playing as much as I could and supporting Celtic.  I was then told "You'll like it here then at Soltau, they love their football." Al went on to tell me that I'd get on well with Baz Gordon, as he was one of the football team, a Celtic supporter, and also a combat lineman like me. To cap it off there was a Squadron day off the next day because they were playing in the Divisional Football Cup Final. Yeh, it was getting better all the time!
After 45 mins on the autobahns we arrived at Soltau, a small town from what I could gather in the rain and the dark and the speed we'd been travelling. The barracks themselves were not far from the centre of town and had a huge monolithic building running up the side of the main road. This was the accommodation block where I'd be living. I was pleased to find that the aforementioned Baz Gordon had already sorted out my bunk, my bedding, my place in the 4-man room in advance of my arrival. Al and Carlo took me from the car park to the accommodation block, pointing out that the cookhouse was closed and so we'd missed dinner. We passed one of the lads on the way to the block, who told us that "One of the lads has managed to grab some food for you in case you missed the cookhouse. Hi mate, I'm Geordie." He offered a handshake. "Hi Geordie, I'm Mick." "Do you play football Mick?" Yeh things were getting better all the time!
The accommodation block was a wall of noise; absolutely deafening as we approached and went through the doors. AC/DC blasted out one room (doors open), "that's Lofty's room" I'm told; INXS blasted out of another; and in the distance, Simple Minds blasted out of yet another. "That's Baz's room and where you'll be Mick." Over the next hour, I met just about everybody, in between them all getting ready for the Christmas Party: Geordie, Chippy, Daz, John – so many names, but I remembered them all instantly. Each had their own character and their own individual manner, but their approach to me – the new guy – was always the same: warm, friendly and welcoming. I could sense that this was going to be a very special period of my life.
One of the lads, John, asked me if I had everything I needed for Christmas Party, offering me an iron, an ironing board, a beer and DM20 – "Just in case you run out of money – I remember my first night here," he said, "Nightmare!" He shoved the DM20 into my hand on a give it back when you can basis.
The Christmas Party went without incident, but there were a lot more people expecting to see me, to say hello to me, to welcome me to the Squadron, to buy me a beer, to want to know me better! Again, I remembered each of them without hesitation: Dave Clarke; Aidy Garner; Stevie Hope; Mick Delaney; Bob and Pat Bruce; and then Staff Lodge. He was Bravo Troop Staff Sergeant, my mentor, my leader, quite simply, "Staff". Later in my army career, he was the one I modelled myself on. He was to me, from that first night, the consummate example of what hard work gets you in life. There was no aura around Staff Lodge – if there was he wouldn't feature so prominently in the years ahead. He insisted that I call him Kev, but I didn't, nobody did – and I liked that – and nobody asked why not.
I met the Squadron Commander, Major Shaw. The men knew him as "Big Jim" – at over 6' 6" tall, it was not hard to see why. He told me he loved linemen, calling them "the salt of the earth" and encouraging me to follow in the footsteps of a guy called Vince McNaught, a Lance Corporal who had not long left Soltau. I was not sure if Major Shaw was drunk when he spoke to me, but I "get" that he is in complete and total control of the Squadron, I "get" that he is fair, that he is honest, and that if I play by the rules, I'll be just fine.
I did and I was.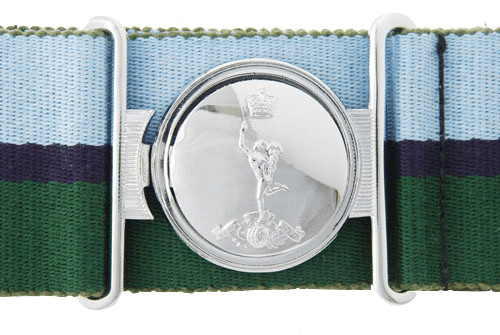 Royal Signals Corps Stable Belt
Image by Royal Signals Museum
My first night in Soltau came to an end at midnight, as we are all up at 7.00 the following morning to go to Osnabruck to support the Squadron football team in the Cup Final. Baz Gordon and me sat up for another hour or so talking about football, particularly Celtic. He was due to play midfield wearing his favourite number 7 shirt in the Cup Final. We talked of home – he was also from my home town of Dundee – and we talked about being a lineman in the Squadron, because he was also a lineman. We then listened to Simple Minds until the early hours.
I drifted off to sleep. Soltau was going to be pretty special for me and as the years go by, I found out why. People are posted all over the world; they arrive with their posting orders; they do their work; they get promoted; and they go. In that respect Soltau was no different, but the people posted there in my time – 4th December 1987 to 17th March 1993 – well, they were different. They were special; they were rare; unique to a man. Baz was a better midfielder than me for example, but he never told me. Stevie Hope was a better lineman than me, but he never told me either. Les North was a better generator operator than Scouse Gatteral, but Les never told him. Geordie Whitehead was a better technician than everybody in the workshop, but he never told anybody. Tommy Mahoney was a better clerk than anybody, but he never told anybody either. And Staff Lodge was a better Staff Sergeant than anybody …… you found out these things for yourself.
That's what defined Soltau: you found things for yourself, for the good or the bad. You found out for yourself and you treated people the way you expected to be treated yourself.
Friday 4th December 1987
207 Signal Squadron lost the Cup Final, on penalties. Baz misses the vital kick. It was a long journey back to Soltau….