I had learnt more about the Army in my first 8 days in Soltau than I had in all of the previous three and a bit years. Arguably I had learnt more about myself in my first 8 days in Soltau than I had in all of the 21 and a bit years I had been alive! Soltau – the guys, the work, the ethic everyone seemed to have – had an immediate effect on not just me, but everyone that drove through that arch by the guardroom. Embrace what Soltau gives you and Soltau will embrace you!
Half of 207 Signal Squadron were going on Christmas leave, most back to the UK for the first time in 6 months or more, so Friday morning's 10am parade was a huge deal. Those going back had been packing their cars all week and you could sense the excitement during this time. It felt like you could almost touch it. The talk was all about which ferry to catch: Calais was an 8-hour drive from Soltau, but while Hamburg was only one hour away it involved an 18-hour crossing – so it's the French port that generally got the nod. It was arguably the quickest roll call ever: Staff Lodge, Staff Palmer from Alpha Troop, and Yeoman Riding SHQ Troop all report into Sergeant Major MacAveety, and after Major Shaw's "… take care everyone …keep out of trouble …Merry Christmas" blessing, it was a case of "Gentlemen, start your engines." Within minutes, they were all on their way out of the barracks, all turning left and heading towards Autobahn 7. Soltau suddenly feels deserted.
207 Signal Squadron football shirt
Photograph by Ali Martin via Facebook/ 207 Signal Squadron 
The previous week had been hectic. Already I had played for the football team, had been on military manoeuvres (exercise) and sampled the highs and lows of Soltau's social scene. I accepted all of this as being my way of life for the foreseeable future.
Dave Simpson worked in our squadron stores. He was also manager of the squadron football team – and a brilliant manager at that. The squad was a collage of talents merged into a formidable team – I had been on to Dave all week to get me into the team, telling him I'm a decent goalkeeper and defender. Eventually he gave in and named me as a substitute in the home game against British Military Hospital (BMH) Hannover on the Wednesday afternoon. Dave's trusted keeper was Les North who kept the No 1 spot, having played well in the Cup Final last week. We warmed up together just before kick-off. Baz my room-mate, played right midfield, Dave Clarke central midfield, Dave Millar left midfield, Daz Pallet up front, Geordie Hogg and Geordie Whitehead central defence – it's was as good a team I had ever seen and they ripped up the Hannover guys with ease.
Baz scores twice but pulled up with an ankle injury midway into the 2nd half and Dave gave me the call to get ready. He decided to put Les North into midfield and so I was on and in between the sticks for the last 20 minutes. Fortunately, I only had to make one save, and we won comfortably 7-0. My two central defenders of Geordies Hogg and Whitehead were a rock-solid partnership; in fact my back four were pretty strong! And as far as I was concerned, the squadron football team had a new No.1 wearing the gloves between the sticks. It was a feeling shared by Dave Simpson as he told me after the game that he was going to stick Les in midfield the following week and have me on from the start. It was an absolute honour to be part of this but there were no high fives, no pats on the back, no bravado. Instead there was a bunch of guys doing what they do best: work for each other; back each other up; and accept their place in machine that was Soltau. The football team was the epitome of the Squadron: disciplined; well trained; and very, very good at what it did.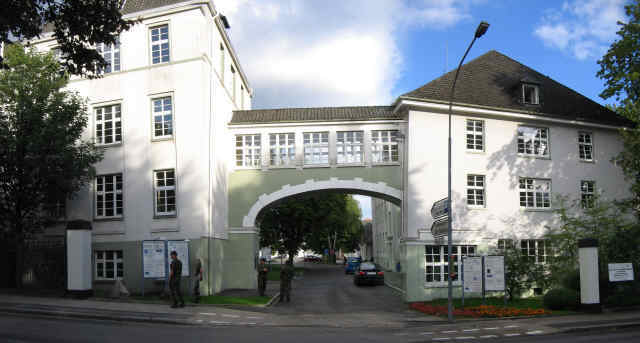 7th Armoured Brigade, Headquarters, Bournmouth Bks, Soltau
Soltau was the home of 7th Armoured Brigade (207 Signal Squadron), which by all accounts meant that it was closer to the Iron Curtain than any other Brigade. In effect, should Russia and the Communist Bloc decide to invade the West, we were first to know about it. Wow! And so was born a thing called "Active Edge" where we all had to grab our equipment at a moment's notice. It involved a mock simulation of the 3rd Shock Red Army marching across the border into West Germany, and so we had to move a communications HQ into woods about 15Km away where no-one could see us (a place called Bivi 16 near a place called Bispingen, just off the Route 217)! It meant that everything was ready to be deployed at just about all times.
"Active Edge" was called on Thursday morning at around 5am and like the machine that it was, the squadron kicked into top gear in majestic fashion. Alpha Troop lined up their 6 x 10 tonne panzer tanks, with me and my detachment commander Stevie Hope in the Line Detachment at the back, in our land-rover and trailer. We were 7 Brigade Main, and we had been packed up and ready to go for days, just in case Mikhail Gorbachev gave the nod to his General's that he was sufficiently narked with the West. HF Quads, 7 Quads, Lightweight Quads, packs of D10, BPO 250's, cigarettes for Stevie, just about everything we needed and at 6am, we were on our way.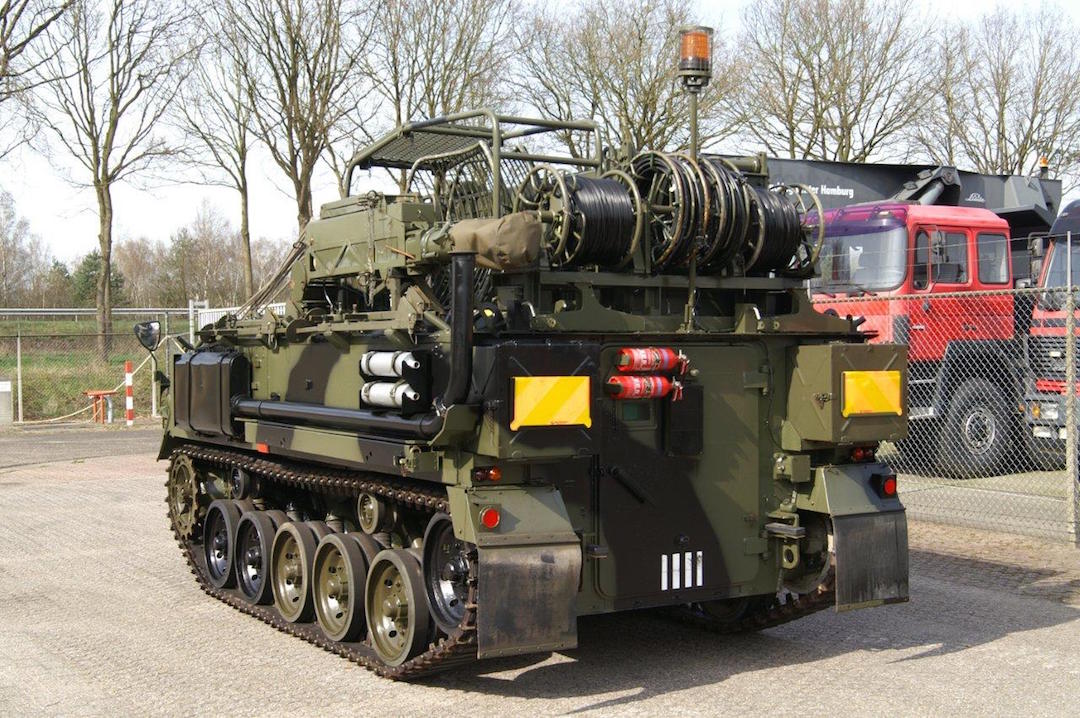 Stevie loved it. He gave abuse to the local Germans as we drove past them, and they equally gave us abuse for 60 tonnes of tank tearing up their roads at a ridiculous time in the morning. If only they knew Boris and his mates were ready to invade at any moment, maybe they would have looked at us differently. Bivi 16 was a desolate place. In fact it wasn't even a place – it was just a clearing in some woods. But it was a space big enough for a Radio Relay tank, a SAS/MC tank, and enough tanks to form a Headquarters communication site. Everyone knew where to put their tank (their detachment), everyone knew exactly who was where and who did what. Nobody talked; people just did what they had to do, and just got to work. Stevie talked to me though, as he had to explain exactly what I needed to know: who was where and what our priority of work was – HF Quad from Radio Relay to SAS/MC. It will be the same every time. Daz Pallet was detachment commander of the Radio Relay, and he had an infectious and brilliant personality. He shouted with joy "Ah Line Det" as we approached, told me I played well in the football, and said he would get coffee on for us in a minute.
Stevie plotted the route for our HF Quad, which was the same route every time we went on "Active Edge". This got to the point where he thought about leaving the HF Quad where it was to save us time next we went up there. Only the cold December frost talked him out of it. We worked for two hours, and all our cables were in. I found I was with the same guys that only the day before were heading corners away to safety in the football, guys that had loaned me DM20 for the Christmas Party, guys that were packing their bags ready to go to the UK at the end of the week – but there seemed a normality about us all being in Bivi 16 together.
I sat with Stevie at the back of the Landover, our camouflage net covering us up so that Boris and 3rd Shock Red Army couldn't see us. Daz brings over our coffees from the Radio Relay detachment. "Ah Line Det," he announces himself, "brews." Stevie and Daz talked, and I listened and admired. There was a lot to admire. The guys here were at the very top of their games. They seemed to me to be the best of the best and it was something to be embraced. We got the call at 12 noon that Mr Gorbachev had decided not to invade the West that day. Clearly me and Stevie had scared him and his Generals off for now. We dragged our cables back in, packed up and were back in barracks in time for lunch. Stevie was once again happy to yell abuse at the local Germans as we drove back through town.
"Active Edge" and going on exercise were ways of life in Soltau. There were plans in place for 1988 for dozens of exercises: Highland Malt 1, 2, 3 and 4; Flying Falcon was a 4-week one in February; and of course there was always "Active Edge" that could happen at any time!
And I loved it. Every minute of it.